When 'Roosevelt' first started appearing on the local scene in the mid 1980's, (under the name of 'one plus one'), they quickly started to build a credible reputation for themselves amongst fellow musicians. One such musician used to come and watch the band playing regularly, (particularly down the 'Pub on the Mud'). Over time, he became a good friend of the band and would often go out of his way to come to their gigs. Mickey Gee was probably one of the most unlikely looking and unassuming characters you could ever meet, but his talent for playing the guitar was immense and his reputation was truly worldwide. 
For many people, Mickey was arguably the greatest guitarist Wales has ever produced. Born in Cardiff in the 40's, Mickey Gee was like a generation of teenagers who fell in love with the guitarists from across the pond like Carl Perkins (who penned 'Blue Suede shoes' a song that was made popular by Elvis Presley) and the slick picking Chet Atkins. Everyone will have heard his playing on the early Shakin' Stevens / pre-fame Tom Jones hits, and who hasn't grooved to his hypnotic playing on Dave Edmunds' I Hear You Knockin'.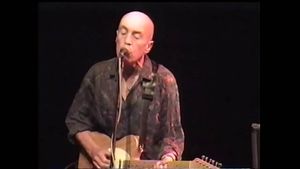 Highlights of his career had to be the wonderful Carl Perkins tv special where Mickey traded licks with the likes of Clapton and George Harrison and Dave Edmunds' New Years Eve MTV Party as 1986 turned into 1987 with Edmunds and Gee trading licks with Brian Setzer and Carl Perkins. Always known as 'that guitarist' Mickey's eventual passing on 21st January 2009 went criminally unnoticed by the outside world, but for us lucky enough to have appreciated him, the loss is immense. 
Roosevelt's rhythm guitarist Pete, recalls how once at a gig at PCs (City Road), his Fender Twin amp was playing up and Mickey offered to go home and pick up his Mesa Boogie amp for him to borrow. All who knew him would agree, this is just what Mickey was like ... 
I daresay the 'older generation' of local musicians will all have stories and personal memories involving Mickey in some way, including the time he blew two amps in one gig whilst playing a Billy Burnette, RAB  classic as his set opener! For me; one of the best stories I heard occurred in Chet Atkins' dressing room in the early 80s where Chet was holding court to several modern guitar gods (including Mark Knopfler) when Mickey shyly entered the door, most of the stars looked at this shy bald bloke and wondered who the gate-crasher was. Chet spotted him and called him over to sit next to him and got them both guitars, whilst they ripped thru the Reed/Atkins classic The Claw, much jaw dropping ensued in the room! 
For Roosevelt, it was not only a pleasure having such a revered musician as a friend, but a profound honour.