A decade had passed, the 1980's and 1990's saw the redevelopment of Cardiff Bay, which sadly meant losing so many of our long established, historic music venues, and even the Capitol Theatre in the City centre, where so many people had memories of watching some of the most iconic rock bands in music history playing.   The late 1990's saw the band record their debut CD 'Generous' at Famous Studios in Cardiff with local singing legend, Tony Etoria producing. The Album (which the band remain fiercely proud of today), was an uncomplicated affair consisting of mainly acoustic oriented original material. Never did the band imagine in their wildest dreams that the album would be aired on BBC Radio Wales as their album of the week, and one of the tracks called 'The Promise' would be picked up and given national air play on BBC Radio 2 by the legendary Bob Harris.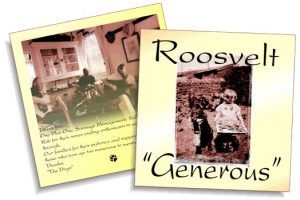 In the years that followed, the band continued going from strength to strength and in 2003/2004 they linked up with Al Steele of Shabbey Road Studios to produce their second album 'All in Good Time'. Once again, it was well received by critics with the track 'Body Parts' being chosen to feature as part of the sound track (along with other Welsh luminaries David Grey and the Stereophonics), for the BAFTA award winning film, 'Way of Life'.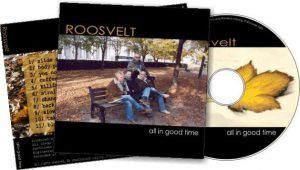 Roosevelt...now with an e -  made a third album, produced by Richard Dunn, in 2012.  Titled 'Deluxe Interior', it yielded a good few great tracks, that the band still perform in their live set today.