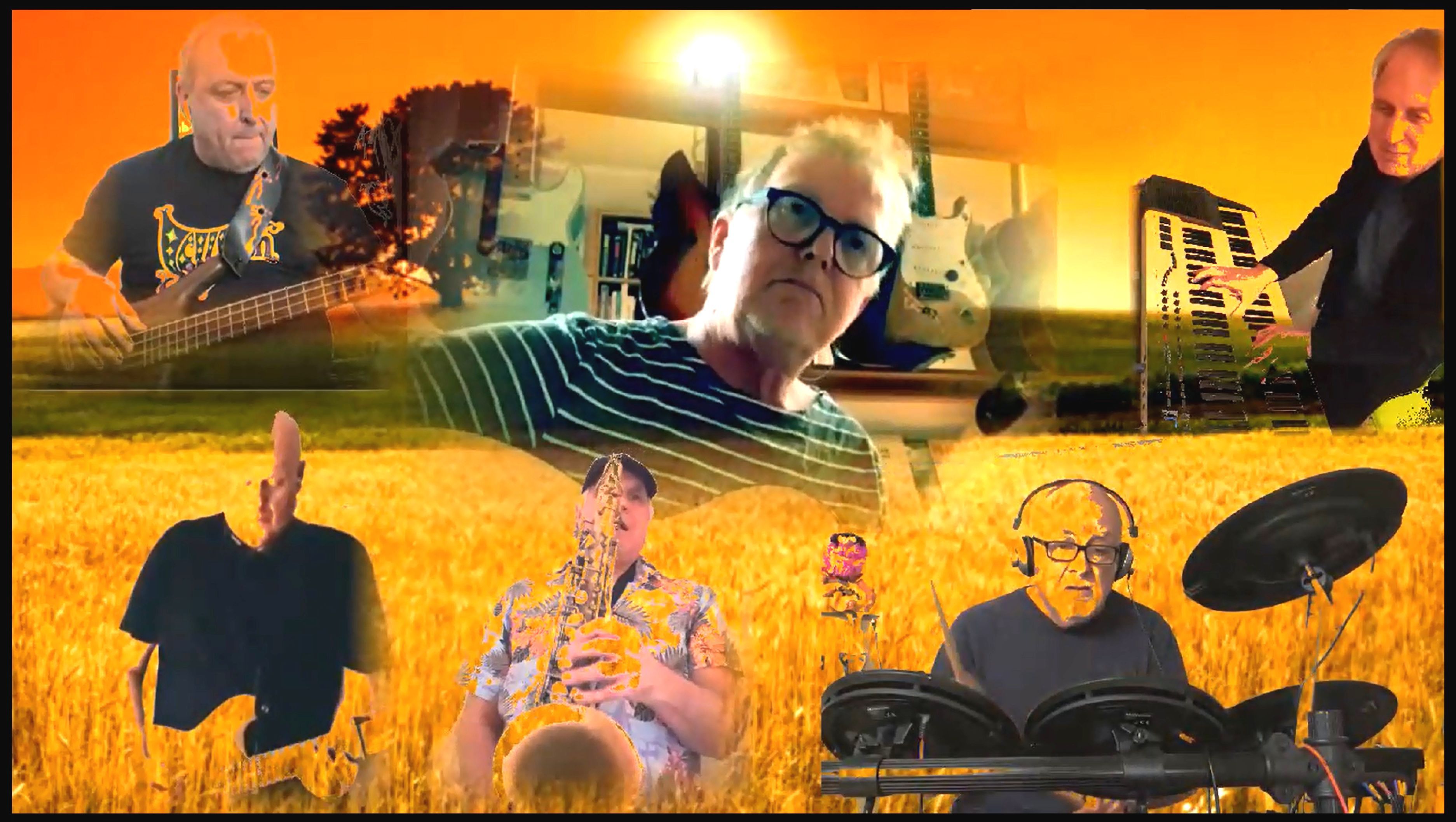 Roosevelt have always had live gigs at their centre, so it is probably no big shock to the 2020 Corona Virus lock-down has been a proverbial kick in the private area! 
As detailed in Simon's previous blog, he was feeling it the most, so he sparked off an idea which has turned out rather well. 
Here is the Whatsapp transcript! 
[10:51, 21/04/2020] Simon Groves: Al. You're a clever bloke. What's the chances of doing what the Stones did the other night: have us all playing one of our numbers from our locked down houses? 
[11:04, 21/04/2020] Simon Groves: Just like Charlie Watts I could play a box and an armchair 😂 
[13:00, 21/04/2020] Pete Davey: Could do an acoustic version of something? 
[16:47, 21/04/2020] Simon Groves: What if... Paul sends us all a version (vocals and guitar) of one of our songs that would work well acoustically and we each video ourselves playing along with it.  Then Al uses his wizardry to edit out the cockups leaving a perfect lockdown track. 
[18:22, 21/04/2020] Al Steele: Would probably need to be done to some sort of click... Like a shaker or something. How about doing a version of Weather Holds For Us? I will do an odd drum loop that can either stay or go and an initial electric piano, then whoever fancies going next. As long as everyone records with an earpiece in it will be in time. Send me the recording and I will do the best I can with it. Even if it is phone recording. 
...and that's how it started! 
Normally we have everything miked to perfection,  with everyone hearing everyone else and really zoning in on each other musically... And here I am suggesting that we can get useable audio from a phone video?!!!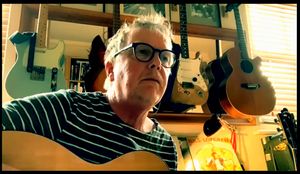 PAUL SPENCER BIGGS 
Well I have to say that the original guitar/vocal that Paul sent through was outstanding! It even looked great! I figured that if we had a real rock and roll beginning then that was a great place to start. This had always been a personal favourite of mine... wanted to use it as a closer for the 2nd Globe gig, with the car heading off into the sunset... 
SIMON GROVES 
Next up was Simon - who for social reasons(!) decided to use an electric kit. Hard to tell the balance when you are whacking at pieces of plastic - but for sure the hi-hats and cymbals were WAY LOUD! Via black magic arts I was able to tame the rogue hi-hats and bolster up the (virtually) non-existent kick drum, and pull the both performances together, which would give everyone a solid framework to build on.   
AL STEELE 
Playing live, I normally choose between some kind of piano or Hammond. We have long had visions of doing a gig with 2 keyboard players/brass/backing vocals etc... so I decided to begin in this style - HEY WE ARE IN LOCKDOWN, NORMAL RULES DON'T APPLY!!! 
I dubbed in the Hammond on the places where it really needed to get loud, and then eased it out when we needed to come back to the intimacy of Paul's original guitar/vocal. 
The piano formed much more the basis of my bit of this track, as it is a perfect foil to the acoustic. At this point I also put in an alternative piano solo - just in case - though had always figured sax was the way to go with this song. 
We were still at a point where we weren't really sure if this would work. 
Paul Biggs   Nice Al...would be nice to hear all the band and get all the  instrumentation down especially the bass guitar, so we can poss. give the vocal and song some breathing space. 
CARL WILLIAMS 
Well a song without a bass will NEVER sound like a song, so this had to be next. Carl delivered an AMAZING performance with a great sound (who would have thought a phone video would make a great bass mike!) and for me the track was starting to sound like it had a real groove. We don't play 'Weather Holds For Us' live very much so here is where a simple run through around at Paul's house would straighten these things out  -  but at this point I realised we all had different interpretations of what the outro chord sequence would be. 
They call me 'The Professor' because I do ACTUALLY know what all the chords should be!... So every 4 bars I had to change one of Carl's notes to make it fit into the (already laid down) framework... Bearing in mind I am the only one who is hearing this all come together in the studio.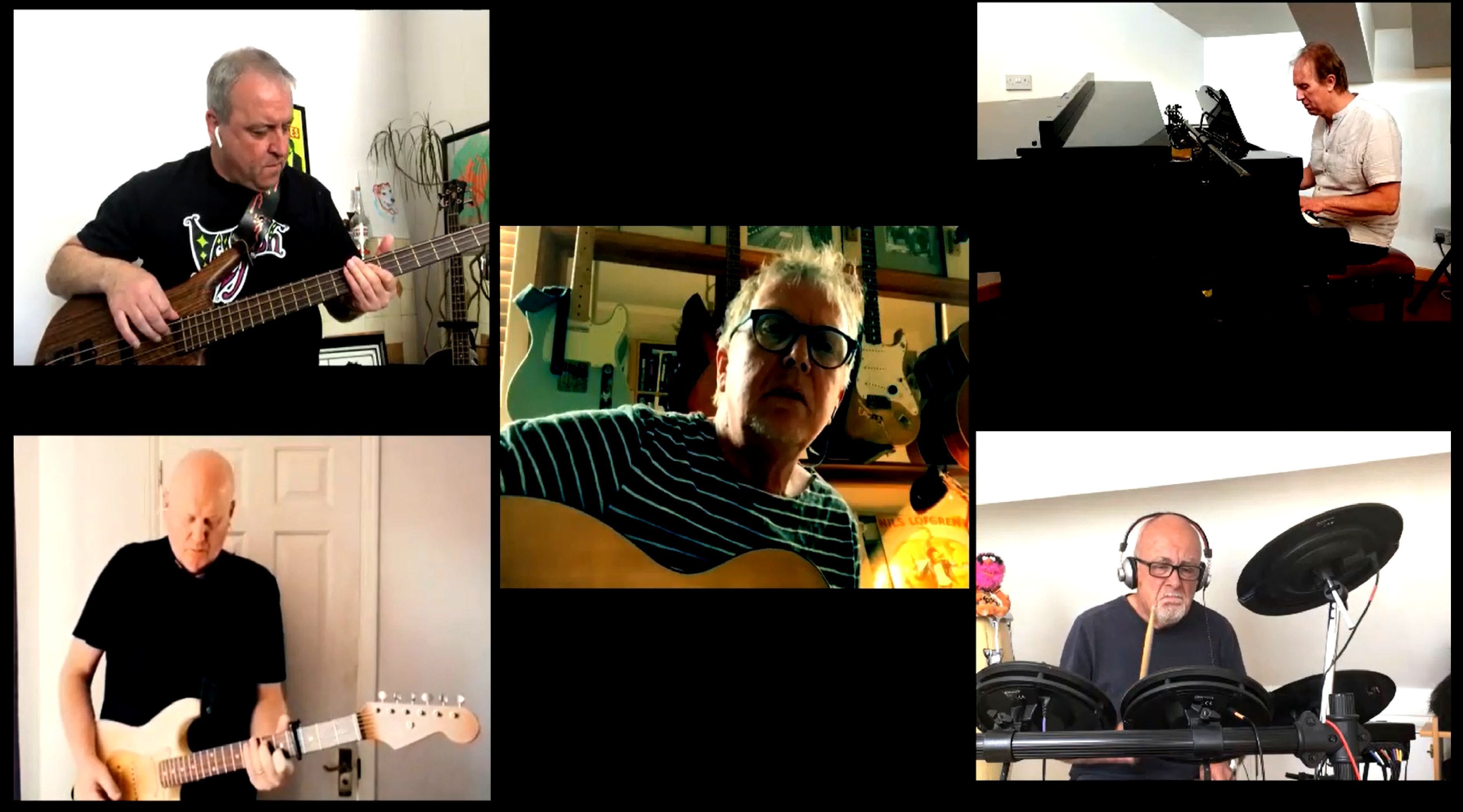 PETE DAVEY 
It is easy to overlook Pete's guitar playing, as he doesn't do many solos... But I must say, that this track didn't really come together until I heard Pete's part dubbed on top. I thought, 'That is the Roosevelt sound right there!' Those two guitars working with each other and adding a really solid base was the glue we were missing - everything else would now be icing on the cake! 
SEAN MCBRIDE 
Sean is an old friend, and also played with us at our 2nd 'Summer In The City' gig at The Globe. We are in the process of recording a new album, and the horns are an integral part of the sound, so I knew that if we could, adding brass to this song would a logical step. 
The parts that Sean sent through made the band sound MASSIVE! He also recorded a fantastic sax solo, which didn't make this cut, but will be made public in the run up to our next big gig - yes folks you heard it here first! 
He also threw the cat amongst the pigeons by sending us a really atmospheric blues harp part for the breakdown before the outro build-up. After much discussion this was left out as well... But threw up the idea of Sean playing some blues harp on the new album. 
I had been mixing the song as we went along, so I had witnessed the slightly cautious responses turn to outright enthusiasm, as the song built. 
[15:15, 07/05/2020] Simon Groves: Ooooh... matron. That's perfect. 🌈🥁🍷🤟 
[15:28, 07/05/2020] Carl Williams DNB: Sounds great Al that's the one! 🤘🎸 
[15:29, 07/05/2020] Simon Groves: Nice bass Carl. 
[15:31, 07/05/2020] Pete Davey: Brilliant Al 👍that'll do nicely mate 👏👏 
[15:31, 07/05/2020] Pete Davey: lovely piano break in that one 💕 
[15:32, 07/05/2020] Carl Williams DNB: Thanks Si the quality of the file I send to Al wasn't great, but as usual he's worked his magic 🎸🎸 
[15:38, 07/05/2020] Pete Davey: That's why he's the prof mate! yeah got to agree with Si, the bass sounds freaking awesome Carlob👍👍 
[15:39, 07/05/2020] Al Steele: The bass sound was pretty good on your vid Carl! 
[15:44, 07/05/2020] Carl Williams DNB: Cheers Al a great song always needs a good bass line 🤘🎸🤘 
[15:46, 07/05/2020] Paul Biggs: 😂 Oww matron!!!!! exactly😂😂😂 that's just fantastic Al.👍 
The acoustic piano and acoustic guitar and voice and a great band, just perfect. 
Well done to us all👍 
[16:42, 07/05/2020] Paul Biggs: OMG!!! guys Iv just listened to it with out headphones and it sounds even better, in fact it brought a little tear to my eye and I have sun-cream on and now there stinging like shit 😂 ...Al!!! just a fantastic job. 
HERE IT IS - DID WE DO GOOD?
So that is the story of our Lock-down song - it is a one-off - a one of a kind - never to be repeated... 
EXCEPT!... Paul had just written a lock-down song... Oh hang on... He's written two....
Here is the first of his late arrivals with a really neat video to go with it!