Cardiff is home to the world's oldest record shop, Spillers Records, which was established in 1894, and was situated in The Hayes area of the city centre before relocating to the nearby Morgan Arcade in 2010. How many classic albums have I bought in there over the years......how many endless hours have I spent in there thumbing my way through (and listening to) the albums and CDs?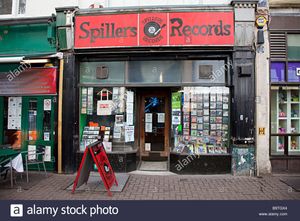 Spillers Records are responsible for introducing me to a host of lesser know artists who have very much influenced my musical tastes. Who else remembers this historic place, what were the most memorable albums you bought there? 
Did you know a study by the Performing Rights Society revealed that Cardiff is the second most musical city in the UK based upon the number of bands having their origins in each UK city. A number of rock music performers begun their careers in Cardiff, from bands like Manic Street Preachers, Super Furry Animals, Stereophonics and Feeder to bands like Lostprophets, Kids in Glass Houses and Funeral for a Friend, as well as McLusky. In 2006 The Independent described the Cardiff music scene as "more vibrant and alive than ever", with more promoters, venues and bands than ever before, often based on the styles of the scene's more famous products such as Stereophonics.