It's been many years since the tiny seeds of what would eventually become Roosevelt were initially sown; and who would ever have thought that after their chance meeting during the hot summer of '79 (in a dark, dingy, school music practice room), that some 39 years later, Paul & Pete would still be standing alongside each other playing in what is today, one of Cardiff's longest surviving rock bands.   
From their humble beginnings, the band started life in 1985/86 under the name of 'One Plus One' (the name was taken from a 1968 film directed by Jean-Luc Goddard about the Rolling Stones called 'One Plus One - Sympathy for the Devil'). The band worked hard, slowly but surely building a following and a reputation by preferring to play more original music rather than cover songs; this was a deliberate strategy to help make the band stand out in amongst the plethora of cover bands that were around at that time, all playing similar material. Here we are playing at the affectionately known 'Pub On The Mud'! - to the uninitiated The Inn on the River
The band simply wanted to offer something a little different to the people who were supporting local live music; In those days, it wasn't uncommon for the band to gig twice on a Saturday night playing in some of the many iconic smoke-filled venues that through the years, had helped to give Cardiff a huge musical reputation. However, being a predominantly originals band was a risk, as most landlords would only want cover bands to play. In the early 90's in the wake of The Commitments, local soul bands became more popular and with the number of local music venues starting to decline, it became increasingly difficult (particularly for an originals band), to get any gigs. The band's persistence however, paid off. Here is the cover of a CD we produced in 1984: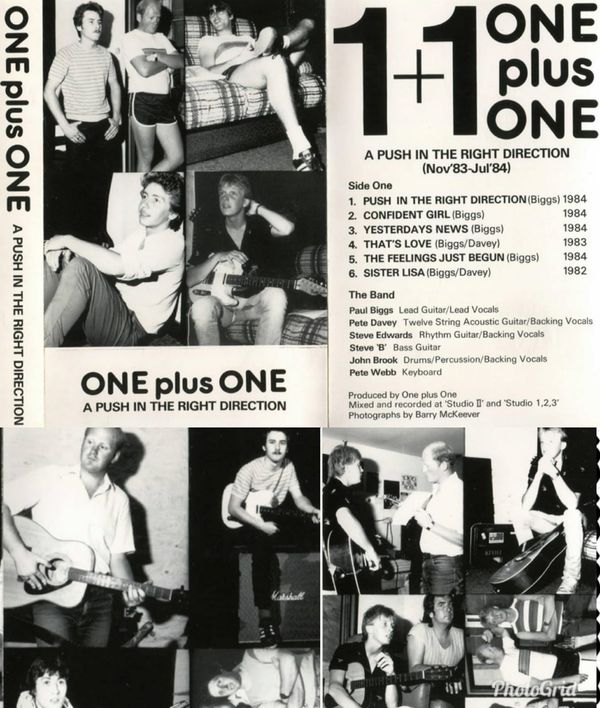 The name of 'One Plus One' only lasted a few years, and it was briefly superseded by 'the Fire Flies' but even that name brought issues, particularly with the South Wales Echo who persistently listed the band in their what's on column as either the 'Five Flies' or the 'Five Fleas' and even on one occasion, 'The Fyfe Flyers'. After much deliberation one evening during a gig in Gassy Jacks, the band eventually settled on the name of 'Roosevelt'.